Golfers Only
Robin Ince's Horizons Tour Diary
In think Guns n Roses are still having a sleep by the time we get to breakfast. They had a big night and apparently played for two and half hours, so they deserve to have their poached eggs late. 
We leave for Christchurch.
At the x-ray machine I hear one of those quizzical "Robin?"s that means "what the hell are you doing here?". I turn to see Jesse Griffin, who I first met when he came to join the Book Club show with his brilliantly observed country character Wilson Dixon, who reminded me of something between Bill Callahan and Josh T Pearson. This will later lead to me spending the evening listening to Last of the Country Gentlemen and remembering when I nearly got into a fight at End of the Road festival because people were being dicks during Josh T Pearson's set. 
Jesse doesn't do Wilson so often now, but tells me of his success with an improvised TV series, Educators. I am glad to hear this and feel nostalgic for The Book Club days, my turning point. 
The flight is short , just enough for a few rounds of Wordscapes and a Dark Side interview with Kier-La Janisse. If you have any interest in the nature of the mind, horror films, psychosis – then you must read her The House of Psychotic Women. 
Ronnie picked us up from the airport and we drove to a retreat some 80 minutes from Christchurch, normally the second scene in a horror movie which opens with a sequence of ominous optimism which hints at the terrible pessimism of everything that bloodily ensues.
None of us are slain on the first night and the satanic ceremony is hushed enough that it doesn't disturb our slumber. 
My room has a washing machine so I wash EVERYTHING. I take a risk by washing hg both pairs of trousers I have with me, if at least one pair doesn't dry in time, I will have to skip dinner.
I decide I should rewatch some New Zealand cinema and enjoy returning to The Scarecrow, a film of small town shadows and a creepy appearance from John Carradine. I also rewatch a few scenes from The Quiet Earth. I can't find any access to Vincent Ward's The Navigator, a film that unsettled me perfectly a few decades ago. Ward became one of the many nearly directors of Alien 3. In his version, the inmates would be living on a planet entirely made of wood. I think Alien 3 is underrated, a claustrophobic asylum piece with a visually stunning conclusion.
I go for a walk but find my paths frequently blocked by warnings of "Golfers Only".
An early dinner, followed by a solitary viewing of World War Z – a frustrating film, some epic images of destruction and some very silly plot moments that verge on the bloodily slapstick.
I can recall none of my dreams. My clever watch reports satisfactory sleep though the recommended 12 – 20 breaths per minute is not always obeyed by my lungs it seems and a veer from 11 to 22 bpm. It's enough to make you paranoid.
My heart rate seems to have increased over the 8 days I have had the watch, I think the clever watch must be making me anxious.
​​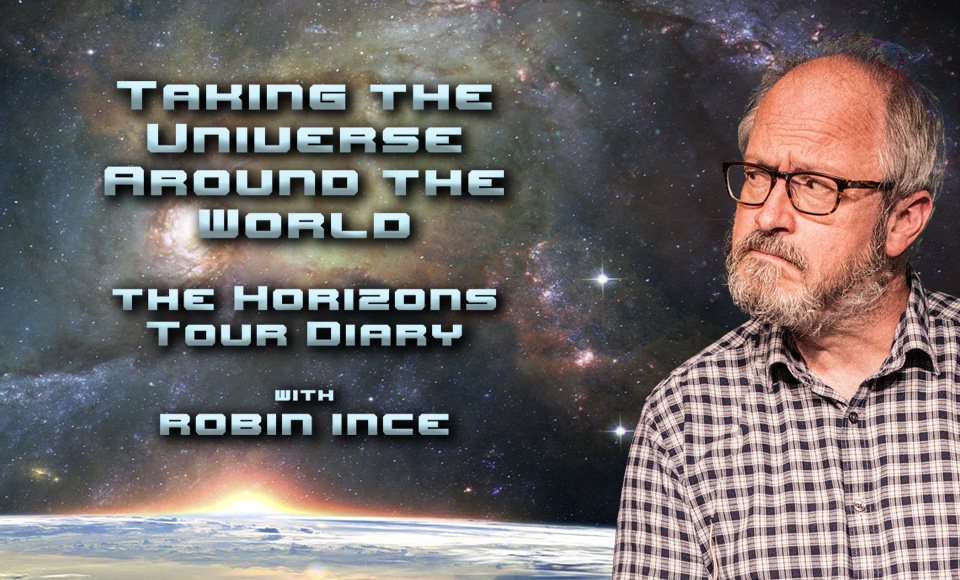 Listen to the Horizons tour podcast, Taking the Universe Around the World HERE.
Bibliomaniac is available for order now at cosmicshambles.com/shop with exclusive art cards.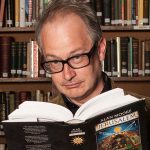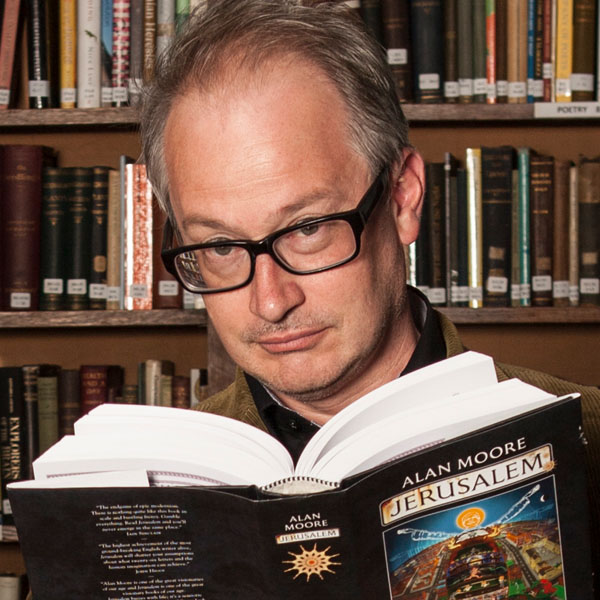 Robin Ince is a multi-award winning comedian, writer and broadcaster.  As well as spending decades as one the UK's most respected stand-ups, Robin is perhaps best known for co-hosting The Infinite Monkey Cage radio show with Brian Cox.  For his work on projects like Cosmic Shambles he was made an Honorary Doctor of Science by Royal Holloway, University of London. His latest book, The Importance of Being Interested is out now.
If you would like to reuse this content please contact us for details
Subscribe to The Cosmic Shambles Network Mailing list here.