A New Favourite Bookshop Down Under
Robin Ince's Horizons Tour Diary
I woke up this morning thinking, "Has my new book been out long enough for me to consider it a failure?"
As it has not become one of the biggest sellers in the first 5 days of its shop existence, my mind starts to tell me that it was all a waste of time. Reasonable me knows this is rubbish, but reasonable me starts in the daylight while much of the rest of me mewls and roars and in a dark cave, bumping its head on stalactites as it goes. I should just be happy that by the reaction and kind words I have had so far from critics and old pals, but my hardware is adept at flying to disgruntlement and melancholy.
My dreams before I woke were of fleas, then of a horrible betrayal. 
I push these thoughts further back into the cave as I become more awake.
We leave for Newcastle at midday and I spend the time between bread and honey and transportation reading more of Love and Let Die, John Higgs' superb book on the English psyche as explored through the shared dawn of international mania for 007 and The Beatles (Love Me Do was released the same day as the first Bond flick). 
The most enduring image so far is the John Lennon shouting out "Winston Churchill!" When trying to win wanting competitions with the boys. 
The spot of Newcastle that we arrive in is prettier than we imagined – a pleasant green of benches, memorials and spike-haired pigeons with an art gallery overlooking it. To continue with the touring tradition, the gallery is closed for refurbishment.
We sit in the sun until my bald head protests and then I walk by the water and visit The Book Grocer, as my first choice, Cooks Hill Books, closes at 3pm. 
The Grocer has a few books of my pals and I am tempted to buy the two copies of Stranger Than We Can Imagine by John Higgs to pass on to others. I look at a pretty book by Kevin Cummins, an anthology of his photographic work of Morrissey, but I realise I would be purchasing it out of a teenage habit that took middle age and far right views, his not mine, to shift. Now there is not the slightest veil over his political views, it is common for people to say, "Well, I ALWAYS hated Morrissey" with a chest inflated pride, but I have no shame in loving his lyrics and at least some of the culture he promoted and helped jemmy into my life. If it were only Elizabeth Smart's By Grand Central Station I Sat Down and Wept, it would be more than enough. 
I leave empty-handed, later regretting my failure to pick up Joanne Limburg's Letter to My Weird Sisters. Brian records an interview for the ABC. There are a smattering of tickets left for the Melbourne matinee and Adelaide, but most of the venues are packed to the gills. 
We admire the waterfront and the industrial landscape beyond.
The next day, I am the only one at breakfast. The manager has a quiff like the finest topiary. I dare not tell him my hair used to reach for the sky, but eventually surrendered from my scalp for fear it will bring him anxious dreams imagining that my head could be his future. 
I have plenty of time for Cooks Hill Books. I like the look of it, the wood decking front, the pagan painting that reaches the roof tiles. The shelf of $1 books at the entrance offers few clues of the stock within. I start slowly. In the show business section, I find a Leo McKern biography. With his face like a toby jug and immaculate timing, as well as his ability to face the torture of being in three episodes of the masterpiece The Prisoner (McGoohan had no gentle touch when it came to making the series, he is someone I want to read more about. Apparently, his first appearance as Number 2 in the story Once Upon a Time almost destroyed him, causing possibly a heart attack or a nervous breakdown. Hopefully, George Whaley's biography will reveal the truth. 
Near-by, I see John Hargreaves – A Celebration. I first saw him being eviscerated by a truck in Australian "nature gets its revenge" movie Long Weekend, frequently aired on the BBC2 Australian movie seasons of my childhood. He was a highly respected and busy actor who died of AIDS in1996. I will place it next to my Ian Charleson: A Tribute when I get home. 
​
Then, I find the shelf of counterculture. My Colin Wilson habit , which you can read more about in Bibliomaniac, is piqued by a US hardback edition of his autobiography, Voyage to a Beginning.
There is also a first edition of his third non-fiction work, The Age of Defeat. I own one already, but this one os both inexpensive and a former public library book (Maitland City Library), so I can track the popularity of the author by the inky date stamps . It leaves first on 23rd November 1959 and its' final withdrawal is 7th December 1968 after seemingly a long time left on the shelf.
I need both volumes of the Dedalus books of Decadence – Moral Ruins and The Black Feast . They include the work of Mallarmé, Wilde , Baudeliare and Poe.
"Misery is manifold. The wretchedness of earth is multiform. Overreaching the wide horizon as the rainbow, its hues are as varied as the hues of that arch; as distinct too, yet as I intimately blended. Overreaching the wide horizon as the rainbow! How is it that from beauty I have derived a type of unloveliness? From the covenant of peace a simile of sorrow?" – Berenice, Edgar Allan Poe.
I love reading the dark sorrow of Poe, but am always reminded of comedian Roger Mann's character Edgar Allan Poo. Today, I wonder if I should now create Edgar Allan Pie.
I pick up another ex-library book, a William Burroughs' film treatment – The Last Words of Dutch Schultz, formerly kept by the federal reference library of the Australian Broadcasting Company.
Then, there's Douglas Rushkoff's Present Shock and Albie Thoms' Polemics for a New Cinema. I know nothing of Thoms, but I like the sound of him – "…an important figure in international avant grade filmmaking . He brought Arrabal to Australia in the early sixties , introduced Artaud's Theatre of Cruelty, founded Ubu films and the Sydney Filmmakers cooperative." At the very leats I will; now find out who or what Arrabal is now.
Now I am in full flow. While packing, I had noticed that my old Penguin edition of WNP Barbellion's The Journal of a Disappointed Man was flaking apart, seeing another lovely 1948 edition on the shelf here, I decide it should be mine.
"Beethoven's Fifth Symphony
This symphony always works me up into an ecstasy; in ecstatic sympathy with its dreadfulness I could stand up in the balcony and flung myself down passionately into the arena below. Yet there were women alongside me today – knitting! It so annoyed me that at the end of the first movement I got up and sat elsewhere. They would have sat knitting at the foot of the cross, I suppose."
Barbellion's journal is a fascinating, poetic and ultimately tragic story of a mind developing from 13 years old to 30 years old. He died due to multiple sclerosis.
His first entry is 3rd January, 1903. "am writing an essay on the life history of insects and have abandoned the idea of writing on 'how cats spend their time'"
The Barbellion prize is named in his honour and is an award for writers with disabilities or illness.
I decide I need a hardback copy of Tom Wolfe's From Bauhaus to Our House. I nearly past it by , but it has a poem written in the front by the purchaser for the recipient of this present ("Woofie from Joochie")
It begins, "I must in lock this last door to the last room
Where I myself am lodged…."
I soon discover it is from Anthony Burgess's Earthly Powers.
In the science fiction, I find William Hjortsberg's Gray Matters. The New York Times promises verbal scenes as arresting as the final scenes of Kubrick's 2001. I know Hjortsberg best for the novel Fallen Angel which became Alan Parker's Angel Heart.
Suddenly, things get very exciting when I see a copy off Evelyn Waugh's Decline and Fall, which I think is one of the funniest novels in the English language. It is a first edition. My dad collected Evelyn Waugh first editions and I don't think he has this one. The spine is little torn, but at 450 I decide it is worth it.
The purchases are topped off by Dorthy Parker's Elbow, book about tattoos on writers and writers on tattoos, Musrum, book I know nothing about bit one of the authors, Anthony Earnshaw, was a surrealist I had read about, and Forbidden Passages: Writings Banned in Canada.
"People with transgressive sexualities are always hiding, always on the run, even if only in a psychological or emotional sense, because pleasurable sex has always been a reliable target for moral reformers and politicians seeking reelection."
I leave the store telling the shopkeeper that it is highly likely I will be back before 3pm closing just to double check there is no necessity I left behind.
I am really getting to like Newcastle.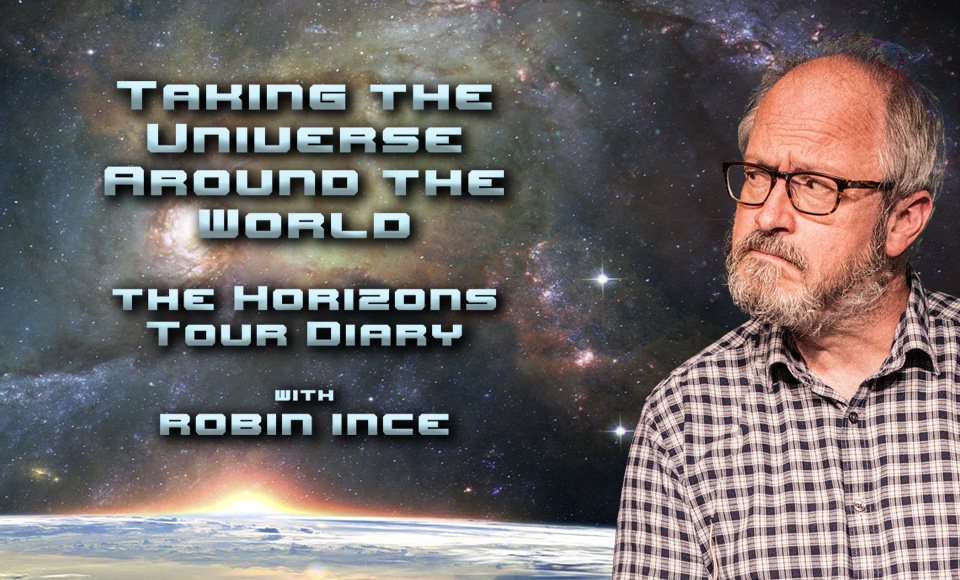 Listen to the Horizons tour podcast, Taking the Universe Around the World HERE.
Bibliomaniac is available for order now at cosmicshambles.com/shop with exclusive art cards.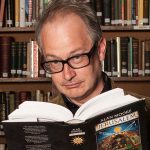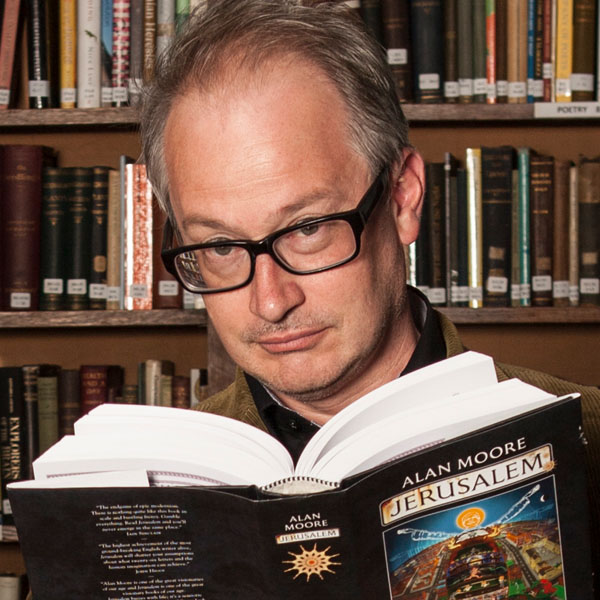 Robin Ince is a multi-award winning comedian, writer and broadcaster.  As well as spending decades as one the UK's most respected stand-ups, Robin is perhaps best known for co-hosting The Infinite Monkey Cage radio show with Brian Cox.  For his work on projects like Cosmic Shambles he was made an Honorary Doctor of Science by Royal Holloway, University of London. His latest book, The Importance of Being Interested is out now.
If you would like to reuse this content please contact us for details
Subscribe to The Cosmic Shambles Network Mailing list here.