Painting Mars with Crayons
Robin Ince's Horizons Tour Diary
Today, I saw rain in Los Angeles for the first time. 
The air felt heavy and close during the night which, with the addition of Joan Collins' broccoli still sitting heavily in my stomach, kept me awake throughout the night despite two doses of melatonin. The insomnia was aided by the tension of a 6.30am start so we could record a Monkey Cage at NASA's Jet Propulsion Laboratory. As I have written before, despite the number of episodes we have made, every recording might as well be the first as my critical voices do not think much of me at all. Your most recent failure is always the true measure off your ability however near or faraway it may be. 
We are also sad to leave The Roosevelt Hotel. Brian's eyes looked wild as we approached the foyer.
"I need a coffee!"
"We can get one in half an hour when we get to JPL"
"I need a coffee NOW!"
He really needed a coffee.
They kindly brought me a coffee too, though I am tentative with anything going into my stomach before 10am, so the main purpose of my coffee was to spill out of the lid and scald my hand every time we hit a bump. It sharpened my wits and only vaguely bubbled my skin. 
Approaching Pasadena, an electrical storm heated the sky and one crack of thunder made out driver, Rick, jump a couple of inches. Who knows how far he would have gone had a seatbelt not kept him in place. 
Due to NASA security, our audience would entirely be made up of JPL employees. 
Brian's love of space exploration goes deep and I could see he was worried that with my silly and absurd mind I might embarrass him. His eyes, no longer wild for coffee, now said, "you better not show me up in front of my spacefaring pals".
Maria and Sash and our LA sound crew had everything set up in the lecture theatre. We babbled a soundcheck and I promised Sash that I would improvise something jokey in our quite serious introduction. I ate a quarter of a bagel with some Smuckers blackcurrant jelly to sugar rush a modicum of wit in my mind. 
Our panel was made up of Kevin Hand, an astrobiologist with a keen interest in icy moons, Katie Stack Morgan, an astrogeologist with a keen interest in martian sediment, and Conan O' Brien, who also brings his son along. Nothing brings together teenage children and their parents more than the chance to get into a NASA facility.
Conan expresses his disappointment that the lizard oppressors have not visited us with their ray guns yet and his son rolls his eyes. The lecture theatre is packed and there is some worry about just how much a morning off watching the recording of a Radio 4 programme rather than spending time in the lab may slow down our discoveries on Mars and Europa. 
Afterwards, we are given a tour of the facilities. The experimenters behind glass are dressed in hooded coveralls with face masks which can't help but bring back memories of Dr No and other supervillain flicks that end in orderly volcanoes. Kevin shows us the facilities used to recreate the ice that is imagined to exist on Europa and we see vehicles that are still in a state of technological undress that we will one day see investigating objects beyond the planet Earth. To see the world of cosmological interrogation close up is humbling and inspiring, to see work requiring such delayed gratification in a world so frequently focused on instant gratification.
My favourite icon is the first coloured image of the Martian surface. This was achieved by painting by numbers . Telecommunications engineers at JPL hand-colored numbered paper strips with the numbers on the strips corresponding to the brightness level of the image. Not only is the image on the wall, but the box of crayons used is also framed next to it – a lovely meeting of the two cultures.
The storms are gone and the hot heavy air has returned to envelop us. Rick takes us to LAX and there goes the rest of the day. We lounge around in a lounge. Brian pops his headphones on and beams as he watches youtube clips of pilots showing cameras around cockpits. My mind is dithering and empty, lack of sleep has shot my focus. I open books and look at them, but the words on the page sail right through me without nay hint of contact.
The woman I am sat next to on the plane and I make a quick and unspoken agreement that we will not engage in conversation, she has a John Grisham to get through and my untrimmed beard is beginning to make me look like too much of a conversational wild card.
When her Greek Salad arrives, she cuts through the lettuce with such vigour that I fear she will kill again. I read a little Cookie Mueller. It was a story of where she was abducted while hitchhiking. Her friends, Mink and Susan, managed to escape, but she was not so fortunate. As the rape became imminent, she hatched a plan.
"I have always been an astute observer of sexy women and unsexy women, and in all my years I have never seen a crazy woman get chased by a man. … so I decided I would act crazy. I would turn the tables. I would scare him." Mueller made the noises of backwards running tape recorder as her assailant became more confused and unable to achieve erection, eventually praying to God for a hard on. Cookie managed to escape to safety.
I also read calmer stories of Peter and Helen Cushing. In her final letter to Peter, she wrote, "let the sun shine in your heart. Do not pine for me…do not be hasty to leave this world, because you will not go until you have lived the life you have been given. And remember , we will meet again when the time is right. This is my promise." After she died, Cushing went into such shock that he ran up and down the stairs, desperate to give himself a heart attack so he could rejoin his beloved Helen. In certain films, The Ghoul and I think Tales from the Crypt, when a photograph of wife was required for his character, it would always be a photograph of Helen.
I slip into montage of hypnogogic images for some of the flight, the exhaustion placing me in a rapid cut dream world.
I would not recommend the John Grisham novel, the lettuce cutting lady decided to leave it under her seat. When the woman behind her pointed this out, fearful she would be bereft without cliffhanger resolution, she quietly whispered a shirt critique in her ear.
The driver collecting us grabbed our luggage which, early on, was predominantly Steph's handbag. He stood with it comfortably for a while and then said that holding a woman's handbag was fine by him as it reminded him of when he was a child and used to hold his mother's , which I thought was a sweet memory.
This is my first time in Texas and I think it probably is another country.
Check In goes badly when Brian discovers there is no food available (it is barely 10pm) and no room service possible. He had set his heart on chicken wings. Leigh manages to sort a delivery of wings with many herbal coatings and gets a bottle of champagne. Steph, Leigh and Brian eat wings while we all watch footage of Brian's early rock days in Dare. Big hair, ripped jean nostalgia and crispy cajun coating makes everyone happy.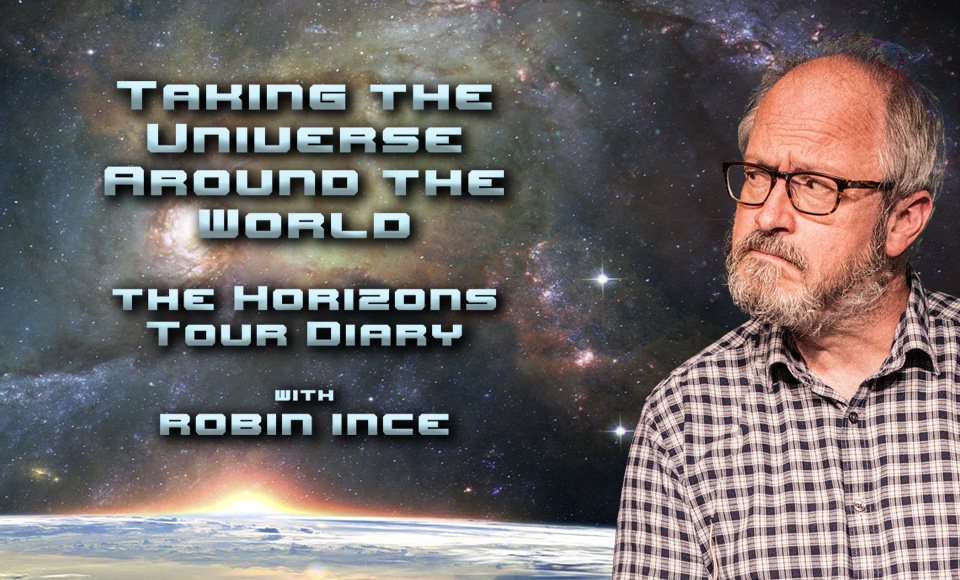 Listen to the Horizons tour podcast, Taking the Universe Around the World HERE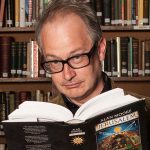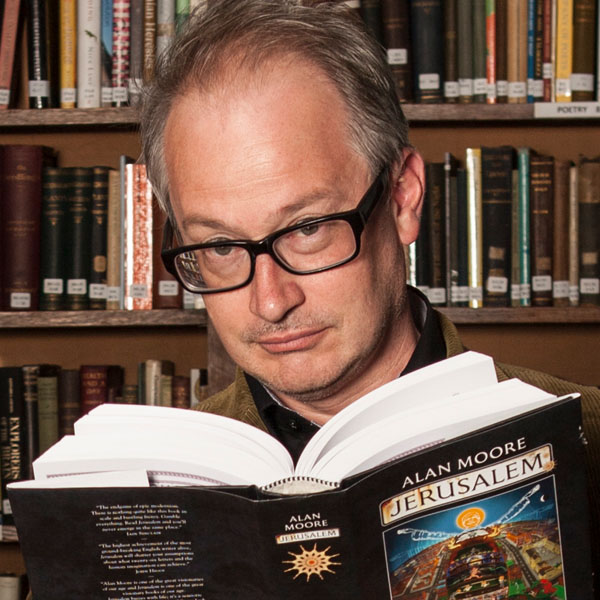 Robin Ince is a multi-award winning comedian, writer and broadcaster.  As well as spending decades as one the UK's most respected stand-ups, Robin is perhaps best known for co-hosting The Infinite Monkey Cage radio show with Brian Cox.  For his work on projects like Cosmic Shambles he was made an Honorary Doctor of Science by Royal Holloway, University of London. His latest book, The Importance of Being Interested is out now.
If you would like to reuse this content please contact us for details
Subscribe to The Cosmic Shambles Network Mailing list here.