Pot Noodles and Nicolas Roeg
Robin Ince's Blog
I am eating a Pot Noodle in Malton.
I can see how Malton got its reputation as "the food capital of Yorkshire". The choice of Pot Noodles in Heron Foods was diverse. I admit to my ignorance of the breadth of Pot Noodle choice in Ripon or Farsley, but I presume if they upped their range then they might steal the food crown from Malton. It feels like a proper tour day just like stand up tour days gone by.  My hotel room has an uncertain smell that comes with budget carpet cleanser and a dehydrated toilet air freshener. I think it is what robot sweat would smell like.  
On the table is the best I could gather for food – a tub of tasteless tomatoes, Dairylea triangles, Ritz crackers and some salted peanuts. I had mistimed going into Malton for a meal.  This was a traditional English Sunday. All thoughts of a hotel meal after 2.30pm could only come from the minds of lunatics, best not to allow such freethinkers near the fine table linens and elegant condiments. 
This was all fine. Though I had a long day ahead of me with little to preoccupy me, back in my hotel room with my Ritz crackers triangulated, I set about writing and reading and pondering. I had been very tempted by the book on Laura Knight at Kemps Bookshop, but knew that for the next few days I had to reject book accumulation. 
Snow dusted the pavement like icing on the Victoria Sponge that had been forbidden to me by my tardiness and I walked to the local hall. I have very slippery feet. I always have had. I don't know why, but my tread is made for slapstick as if my shoe leather was banana skin, but I do not fall. The hall is draped in bunting and I talk about astronomy and photons while contentedly pre-signing a few books. Now at the 93rd talk in under two months, my mind is quite lost as to what I have said minutes ago or days ago. I fear that by the 101st I will be trapped in single cosmological anecdote that revolves around and around and around, an event horizon might of snake digesting its own tail for eternity. It is another friendly room and a sign and chat. It is always lovely and encouraging to hear about what The Infinite Monkey Cage means to people and the paths it has encouraged people to take. Now edging to exhaustion, this optimism cheers me on. 
I drink a glass of wine from the hall bar, but I am warned that the pubs may be closed early on Sunday. Fortunately, the hotel next to mine still has an open bar, and I drink red wine while reading about red coats in a red book about Don't Look Now. 
On to Day 53. I am not gregarious in the morning. Sadly, the other lone breakfast diner is. I learn much about his life – past, present and future. I eat my scrambled eggs hurriedly, but politely. The uncertainty of trains to Edinburgh is enough to deal with without dealing with a stranger's issues with their wife and her family. 
The enormously helpful person at the station tells me that the 10.35 from York to Edinburgh will be running. Sadly, hurricane Arwen can change a train companies good intentions rapidly and, but the time I get to York, the storm damaged signals have proven to be not up to the job. We all change at Newcastle. The people around me are frustratingly oblivious to anyone but themselves. They are the kind of people that just suddenly stop and block. We will be taking a circuitous route from Newcastle to Edinburgh via Carlisle. The train will be densely packed with people and suitcases the size of coffins for a circus sideshow attraction.
My anxiety is rumbling and whispering.
Fortunately, I end up with a vestibule all to myself. I listen to an hour of Sarah Bakewell's magnificent At the Existentialist Cafe, then Iain Sinclair reading London Orbital and round it off with some Maya Angelou.
To see Edinburgh is life affirming. The hoppy smell of the brewery takes me back to the first time I got off the train at Edinburgh in August 1987. That week, I would see Jeremy Hardy, Jenny LeCoat and the Diamantés and so many other things that would set that baby comedy fan's heart on fire.
I am staying with my friends Richard and Caroline. After a week of hotels it is comforting to be staying in a house even if his walls are covered in vintage promotional posters for wide-eyed hypnotists who look into my would with their 2 dimensional inky irises.
They give me a lift down to Portobello Books which, yet again, is a beautifully designed and curated shop. I will also be seeing my former tap dancer pal, Jo. I saw her tap dancing 15 years ago at a late night variety show and went straight up to her and said, "i know this may sound unusual, but I wondered if you might be free to tap dance while I read from books about giant killer crabs.
Later, she would also tap dance at a night celebrating Richard Feynman while someone else played the bongos – the two cultures never stop colliding on my watch.
I went for a drink with Jo, her mum and an old school friend, John.
I drank one more glass of wine than I usually do after a book event, so punished myself by walking from Portobello to Edinburgh city centre.
I went to sleep watched by 100 mesmerist eyes..
————————————————————-
 All Tour dates here.
Order signed and dedicated copies of The Importance of being Interested here.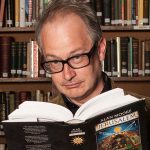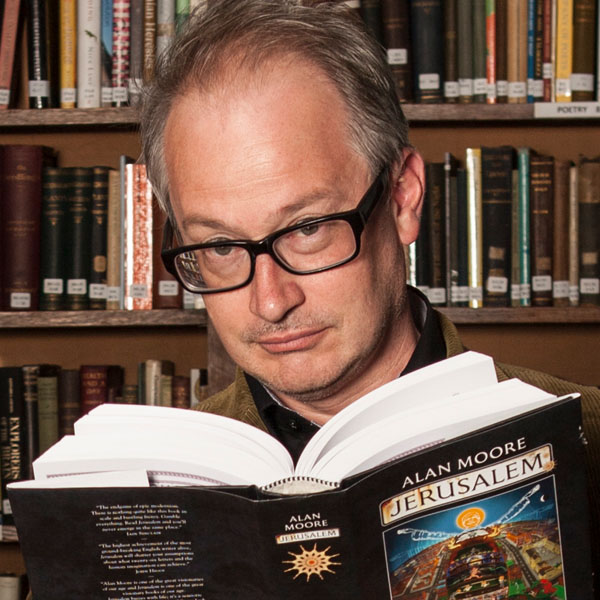 Robin Ince is a multi-award winning comedian, writer and broadcaster.  As well as spending decades as one the UK's most respected stand-ups, Robin is perhaps best known for co-hosting The Infinite Monkey Cage radio show with Brian Cox.  For his work on projects like Cosmic Shambles he was made an Honorary Doctor of Science by Royal Holloway, University of London. His latest book, The Importance of Being Interested has just been released.
If you would like to reuse this content please contact us for details
Subscribe to The Cosmic Shambles Network Mailing list here.