Shave and a Haircut
Robin Ince's Blog
The day begins with Radio Leicester where I can plug the two gigs I have already done in the area for anyone who has found a way of manipulating their paths in the block Universe which breaks the current laws of physics.
Then, it is a long interview with John Weston who hosts the New Books Network podcast. It is always fun to be taken by surprise by questions that come from your book when they come from a bit you quite forgot you had written. How those multitude of celebrities whose ghost written work groans on the bookshop tables, requiring them to do little more than a photo shoot and have a bit of a chat, survive interviews I do not know. But I suppose it is quite Christmassy that there are so many ghosts about at this time of year. I remember interviewing a celebrity author who had written some novels and realising as I read the work that it would be best to steer clear of specifics as I was very doubtful that he had blistered his typing fingers working on them.
I also have a chat with Brian Cox about the cardigan design for our next tour which begins in February (we hope).
I race out of the door as I have plans to stop off at Chippenham on the way to Bath to get my haircut and beard trimmed at Hepcats Barbers and Beauty Salon run by my pal Wil Hodgson whose Care Bear covered arms are adept with razor and scissors and whose aftershave cupboard is a history of Christmas gift smells from the 1960s onwards. One of the most remarkable bottles of aftershave I have seen in his museum was adorned with a label showing Christopher Lee in full cape surrounded by naked kneeling women. It was clearly one of Boots's behind the counter, top shelf smells.
In Chippenham, I briefly stop off in the Dorothy House Hospice shop and debate about buying the autobiography of the comedian Charlie Williams, Ee' I've Had Some Laughs, but decide the £9 price tag is too high. It will be a decision I regret.
My head is wrapped in a hot towel and Will does his work expertly. Last time, we talked of the young life of Roy Chubby Brown and the truth of the Great Train Robbery, this is a barber's chair with an education attached. This time we talk of comedy and how similar the ghosts of Chippenham are to the ghosts of Northampton. On the way out, I notice the Christopher sexy smells label in a frame. Since my last visit, the bottle fell to the floor, but the label was saved. No one in Chippenham can now leave the salon smelling like a sexy, operatic bloodsucker, they can but dream. I do a speed charity shop browse as I hurry to the station.
I arrive in Bath in time for the Oxfam bookshop and find an expensive volume that must be mine. An Index of Possibilities: Energy and Power, originally intended as a UK version of Stuart Brand's Whole Earth Catalogue, it includes pieces on Apollo astronaut Edgar Mitchell's fascination with ESP and a terrific cartoon of Kurt Vonnegut (which sealed the deal), so that was another £30 in the till shortly before closing. I meet Bennett, whose birthday it is tomorrow, and he buys a comic.
I buy him a piece of cake and we mutter for a while.
The location of the book talk is Toppings which has just moved premises and is beautiful and vast. I spy a James Baldwin biography I have not seen before, Living in Fire by Bill V Mullen, and place it on my pile of probable purchases. The Abbey bells ring throughout my talk (press angle – "church tries to drown out science talk through campanology!"). I am asked some brief but entertaining questions. I wish I could remember the final one, it was something along the lines of "is transcendent experience delusion?" Or maybe it was about revelation, though not Revelations.
I take half a bottle of wine and my new James Baldwin book with me to the train and read all about Morecambe and Wise for the next morning's interview with Louis Barfe.   
————————————————————-
I am at Cambridge Junction on Thursday. The London Weekend Bookshop Tour is this weekend. Then, next week, the final blast begins, the one that decides whether I live or die through this tour. Ledbury, Malvern, Hay, Sedbergh, Whitley Bay, Newcastle, Edinburgh, Linlithgow, Hexham, Stockton, Hull and on and on. All Tour dates here.

Order signed and dedicated copies of The Importance of being Interested here.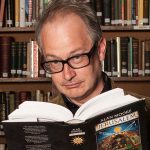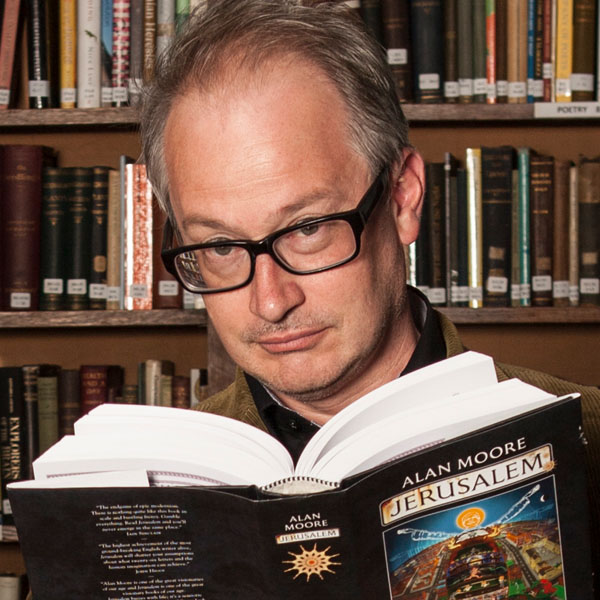 Robin Ince is a multi-award winning comedian, writer and broadcaster.  As well as spending decades as one the UK's most respected stand-ups, Robin is perhaps best known for co-hosting The Infinite Monkey Cage radio show with Brian Cox.  For his work on projects like Cosmic Shambles he was made an Honorary Doctor of Science by Royal Holloway, University of London. His latest book, The Importance of Being Interested has just been released.
If you would like to reuse this content please contact us for details
Subscribe to The Cosmic Shambles Network Mailing list here.