Uncertainty at The Alamo
Robin Ince's Horizons Tour Diary
Eating breakfast, lost in granola, my mind destabilised and, for a moment, I was nowhere. 
Touring fictionalises a life. You are in lots of short stories with the same ending – "and then they got into the van and onto the freeway". Saturday feels like a conclusive day to finish a tour, but now it is Monday and we still have two more shows to do. The reality and deadlines of home that get lost in the heat haze of travel are real again. Three Monkey Cages next week, the ALSO festival, final edit on my Radio 4 two parter, a conference on the philosophy of comedy, a Book Shambles recording – after the rhythm of the same show, different city, night by night, I will reset my mind to "confused excitability". I am brought back to Texas by seeing an Austin Duck Truck tour driving from land to river. 
Driving into San Antonio, a funeral is departing the First Presbyterian Church. It must have been an upstanding member of the community, as police escort a limousine away from the mourning. 
It was a short journey through an industrial landscape from Austin to San Antonio, like the view through New Jersey where you see the pumps, grids, pylons and water towers that keep the city alive in inhospitable places. There's haulage everywhere, lots filled with trucks that have died and lots filled with trucks promising the smell of fresh upholstery and smoother gear changes. I will read Heathcote Williams's Autogeddon again when I get home. 
It is a Monday, so San Antonio's art galleries are closed and their used bookstores are just a walk too far in this heat at 4 and 5 miles away. 
I was tempted to go to The Twig bookshop, an independent store that looks like it does a a lot of work for community literacy. Their name is inspired by the Alexander Pope quotation, "'Tis education forms the common mind; just as the twig is bent the tree's inclined."
But first, I visit The Alamo. The first thing I think of when I think of the Alamo is the wrestler and actor Brian Glover and the joke he tells in An American Werewolf in London before the two boys are sent out onto the moor to meet their fate (punchline – "remember the Alamo, and he pushes out the Mexican!") . When Brian Glover, The Guardian, famed for its typographical errors, printed that he had died of "a brian tumour". At The Alamo, I see my first Trumpish T Shirt – the Stars and Stripes under the words "If this flag offends you, I'll help you pack". 
I am not sure what to make of The Alamo, I don't really know who the goodies and the baddies are, so look quizzically at the plaques and statues. I realise that I often walk around historical sites reading all the notices, but if you ask me two weeks later about the history of Dover Castle or The Pencil Museum, almost all of the facts and stories will have already dropped out of my brain somewhere near Watford Gap services, so I only skim the walls and return to the hotel. 
The site was purchased in the early 20th century by a benefactor to ensure it was not commercialised and, thanks to that kindness, it is at least a 40 meter walk to any of the Ripley's Believe it or Not sideshows.
My intentions to visit The Twig Bookstore are shattered when I remember that I have failed on a promise. I promised my son that I would keep up to date with Kenobi so that when I returned home we could go straight into the next episode, so browsing is replaced with sabre battles and Jedi mind tricks.
Throughout this tour, I have been determined to do as Brian does and take an afternoon nap, it does wonders for his hair and skin. I can't make myself do it, for fear of missing something – maybe in Houston, I know the Rothko Chapel is sadly too far away for a visit in the 4 hours we have there. 
San Antonio was a slow seller, but has really picked up and the one thousand people who turn up for a Monday night cosmology show become more and more fun to play with as the night goes on. During the interval, we get the largest number of photographs of couples on a date night tweeted to us.
After the show, we sit in our dressing room looking at a painting of Robert Goulet and drinking some excellent white wine that Leigh has chosen for us while listening to the soundtracks of Hairspray and Shock Treatment. The driver who collects us is listening to Keith Jarrett, whose music appears in Horizons, and it turns out that he is a professional musician. Brian takes his card in the hope of a future orchestral reboot of the show.
The three of us have one more glass on the 20th floor bar, looking out across the lights of San Antonio and playing a game of "plane or planet" as we look at the sky.
Audience questions from San Antonio include –
If the universe is expanding, are today's minutes longer than the minutes 100 years ago?
I know there is infinite space and time, but if there was infinite matter what would that imply? (Repeating worlds?)
RED or GREEN SALSA?!?!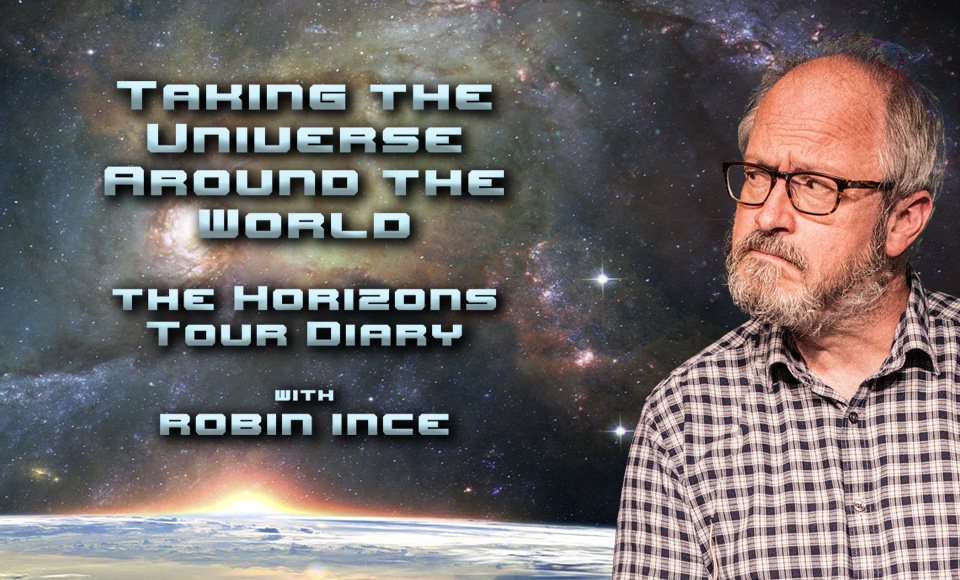 Listen to the Horizons tour podcast, Taking the Universe Around the World HERE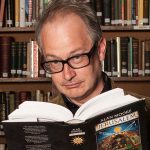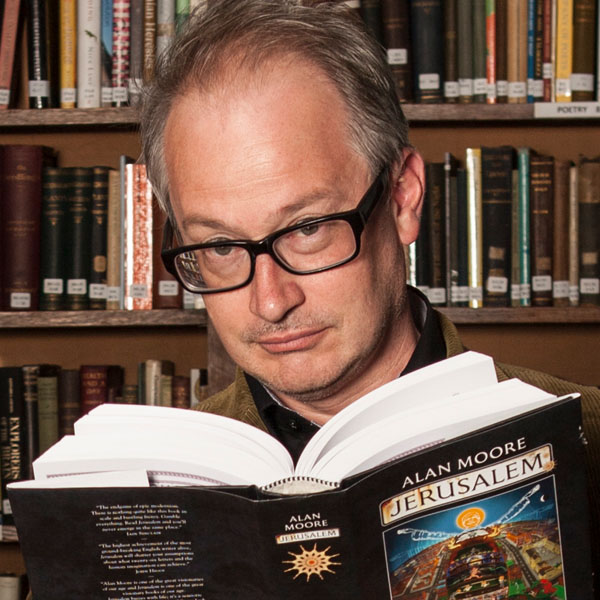 Robin Ince is a multi-award winning comedian, writer and broadcaster.  As well as spending decades as one the UK's most respected stand-ups, Robin is perhaps best known for co-hosting The Infinite Monkey Cage radio show with Brian Cox.  For his work on projects like Cosmic Shambles he was made an Honorary Doctor of Science by Royal Holloway, University of London. His latest book, The Importance of Being Interested is out now.
If you would like to reuse this content please contact us for details
Subscribe to The Cosmic Shambles Network Mailing list here.