A photographic celebration of real-life female Superheroes
The Cosmic Shambles Network are proud to present Cosmic Superheroes, a unique photographic celebration of the superpowers it has taken for women at the forefront of the worlds of Arts and Science to establish themselves as superheroes in their individual fields. The exhibition was on display in London earlier this year and will hopefully be on tour in the UK later this year.
About the Exhibition
Trent Burton and Melinda Burton, two of the Producers of The Cosmic Shambles Network, came up with the idea for Cosmic Superheroes during a conversation with colleagues at the time of the launch of the movie of Wonder Woman.
Trent explains:
"There was a lot of talk about how it was great to see a female superhero, and a big comic book film that empowered the female lead and had strong feminist undertones. And that is unquestionably true, and excellent, but there was also a lot of talk around how she was still clearly required to get about in her smalls a lot of the time.
So I suggested that we ask some of the people with whom we work regularly to come up with suggestions for superpowers that they felt would go into making their own superheroes. They didn't even have to have the usual superhuman powers if they didn't want, because we felt that becoming a professor of physics or palaeobiology was a superpower enough."
Meet the Cosmic Superheroes
Click View to see the official portrait and watch a video chat with each person about their superhero and work
Josie Long
Comedian, Writer, Performer and Broadcaster
Dr Helen Czerski
Bubble Physicist, Writer and Broadcaster
Prof Lucie Green
Solar Physicist, Writer and Broadcaster
Grace Petrie
Singer / Songwriter and activist
Katy Brand
Comedian, Writer, Performer and Broadcaster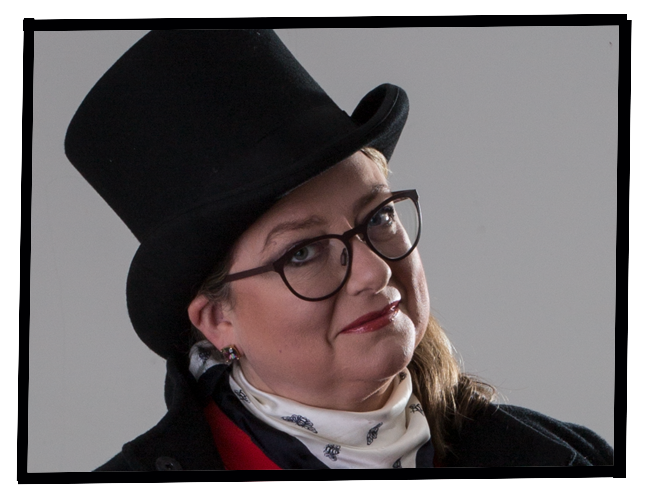 Prof Sophie Scott
Cognitive Neuroscientist and Broadcaster
Salena Godden
Poet, Writer and Broadcaster
Dr Suzi Gage
Epidemiologist, Psychologist & Broadcaster
The Trowelblazers
Archaeologists
Dr Suze Kundu
Nanochemist & Broadcaster
Dr Kat Arney
Genetics Writer and Broadcaster
Ginny Smith
Science Writer and Broadcaster
Dr Sheena Cruickshank
Immunologist
Maria Smith
Architect and Engineer
More from the Superheroes
Take a look at some of the other work from The Cosmic Shambles Network featuring our Cosmic Superheroes
A one hour documentary on noted freethinker Dr Moncure Conway presented by Ginny Smith
Charles Darwin once described his mind as being a 'Chaos of Delight'. We asked Professor Lucie Green when she'd experienced such a feeling.
Physicist, writer and broadcaster Dr Helen Czerski joins Josie and Robin this week to talk about the science of every day things.
STORE
If you'd like to purchase a print of any of the Cosmic Superheroes, or buy one of our limited edition comic books of the exhibition, contact us below.